Therapists Affiliated with HVCL
Offering Post-Cult Counselling
Below are a selection of people who have completed Dr Gillie's Post Cult-Counselling Training.
What is Post-Cult Counselling?
Post-Cult Counselling (PCC) is an approach to counselling former members and survivors of coercive, cultic and spiritual abuse, and religious trauma. It usually consists of working through a specially designed Recovery Workbook or Gillie's book 'Walking Free from the Trauma of Coercive, Cultic and Spiritual Abuse: A Workbook for Recovery and Growth' in a conversation with a therapist trained to deliver PCC. The main aim of this is to help you understand your experience and how it has affected you and the way you think and feel.
PCC usually involves about 20-26 hours of sessions, although this can be more or less, depending on circumstances. After completing the Recovery Workbook, some people choose to have a period of ongoing regular therapy, either with the same therapist or another.
Affiliates work flexibly via video conferencing or in person. Please note that whilst these people have completed a course of Post-Cult Counselling training with Dr Gillie, they are responsible for their own practice.
Affiliates are listed in alphabetical order - please have a good look and see who might be the right person for you!
Post-Cult Counselling in the UK
See below a selection of therapists trained in PCC and based in the UK. If you are interested in attending PCC please check out their bios and see who you would like to work with.
Many of the UK therapists are Insured in the UK to work with Clients abroad.
These are independent practitioners responsible for their own training and practice.
Sophie Atkinson | Chelmsford, Essex | United Kingdom
BSc (Hons) Psychology, Diploma in Psychodynamic therapy, Certificate in Clinical Supervision, Certificate in Post Cult Counselling, MBACP Reg
An empathetic compassionate and non-judgemental approach are at the centre of therapeutic work. This allows for exploration of what has brought us to therapy as we do not always know why we feel unsettled or are struggling.
I am a psychodynamic therapist with my own private practice and consulting room. I have been qualified since 2009. I offer psychodynamic therapy to individual adults and couples. I also offer post cult counselling and psychoeducation to ex-cult, high demand, and coercive group members.
I specialise in narcissism and psychosexual work. I also focus my PCC work on small and family cultic groups and non-religious or faith-based groups as this is my personal experience.
For availability please contact me.
Current spaces: 1
Available via Zoom & In-Person (Chelmsford, Essex)
sophie@sophie-atkinson.co.uk | Visit Sophie's Website
Nicola Atkins | Northern Ireland | United Kingdom
Hello! I am a BACP accredited therapist (BA, MA, MA Pluralistic Counselling) with seven years' experience. I welcome clients who have suffered from cultic abuse in both group and one-to-one settings. I have worked with ex-members from a wide variety of cultic backgrounds, including: Christian and pseudo-Christian churches and sects; New Age and mystical groups; sex cults, and; people suffering the effects of relationships with traumatising narcissists. With a background in trauma work, I offer an environment where experiences are revisited and processed in a safe way that is not re-traumatising. My approach is gentle and empathic and focused. Shame and embarrassment are often (wrongly) felt by ex-members. Please be assured that you will be treated with dignity and respect. I am currently undertaking training in psychosexual therapy and EMDR.
Available via Zoom & In-Person (Portadown/Banbridge, Northern Ireland)
nicolaknightcounselling@hotmail.com
Marguerite Cockerill | Wimbledon/London | United Kingdom
BA (Hons) MBACP
I'm Marguerite - an integrative psychotherapist offering individual therapy from my busy London-based private practice. I have 15 years of experience working with adults and young people. A warm and vibrant therapeutic relationship is at the heart of my work. Each of my clients is seen, valued, respected and given a safe space for their story to be told.
I work with clients who wish to consider matters of faith and spirituality as part of the therapeutic work and have specialised training in spiritual abuse and post cult recovery.
Often I will use psychoeducation alongside relational therapy to help a client understand the impact religious trauma can have on identity, trust, relationships and overall emotional wellbeing.
I will always approach this work without judgement and with great sensitivity, respecting a person's personal beliefs. I work with people of any faith or none.
Current spaces: 1
Available via Zoom & In-Person (London/Wimbledon)
margueritecockerill@hotmail.com | Visit Marguerite's Website
Claire Alison Hams | Surrey/London | United Kingdom
MBACP Registered, NCPS Accrd
I myself was born and raised as one of Jehovah's Witnesses. I left as an adult and recognise the unique form of grief that comes with the process of leaving and restarting a life outside of any high control environment. Wanting to equip myself with further insight, to work in an informed way with former cult members, I trained with Dr Gillie Jenkinson. I use the post-cult counselling workbook for recovery and growth with my clients. I work regularly with former members and survivors of various cultic groups and relationships, including spiritual abuse, religious trauma, coercive control and partner abuse.
I trained initially as a psychodynamic counsellor (which aims to understand our patterns of behaviour and family dynamics). I subsequently obtained my honours degree in counselling from University of Greenwich. Currently I am doing doctoral research with the University of Chester, specifically exploring born in/raised ex-Jehovah's Witnesses experiences of therapy.
Current spaces: 1
Available via Zoom & In-Person (London/Surrey)
clairealisoncounselling@gmail.com | Visit Claire's Website
Pauline Hewitt | Northern Ireland | United Kingdom
BA (Hons), MBACP (Accred), Europe Accredited EMDR Consultant
Psychotherapist/Clinical Supervisor
Practicing from 2007, I have specialized in trauma informed therapy including EMDR, Sensorimotor Psychotherapy and CBT working with those suffering from post traumatic stress, anxiety, depression and much more. I am an accredited member of BACP (British Association of Counsellors & Psychotherapists) and a Europe Accredited EMDR Consultant. I am passionate about helping people find freedom from adverse and traumatic situations in their childhood/adult lives that has changed the way they view themselves, others and the world. This includes coercive and controlling environments within cult, religion, church, family or workplace. Particular experience is with those who have suffered spiritual abuse/trauma within mainstream/evangelical church settings.
Completing the Post Cult Counsellng Certificate has provided further understanding and skills to help survivors to heal and find freedom from the traumatic impact involved from these abusive situations through a safe, confidential and empathic space, enabling understanding and awareness to process their experience.

Current waiting list: 6 weeks
Available via Zoom & In-Person (Hillsborough, NI)
hello@edentherapies.org | Visit Pauline's Website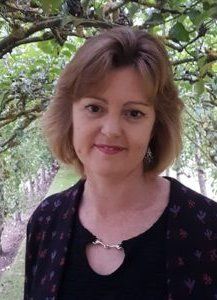 Vicky Kalis | Northern Ireland | United Kingdom
MBACP., Reg. ACC., ATSAC., RegCOSRT
I am an Integrative Psychotherapist and been in private practice since 2009. Much like the art of kintsugi, I believe beauty can come from areas of struggle and brokenness when given the right care and conditions. As such, I aim to provide a safe, supportive, confidential and non-judgemental space for clients to reflect on their experiences, thoughts, feelings and what's happening in the body. In gaining greater insight and awareness it presents an opportunity for compassion and change.
I hold a Master's Degree in Relational Counselling and Psychotherapy and specialise in working with clients who have experienced trauma through cultic and spiritual abuse. I also specialise in porn, sex addiction and sexual difficulties as a result of a teachings within cultic, high controlling groups or Churches.
Available via Zoom
Speciality: Cultic, Religious Trauma, Sexual difficulties
therapy@compassionrestoration.uk | Visit Vicky's Website
Sarah Nicholson | Sheffield | United Kingdom
MSc - UKCP Accredited & Registered Psychotherapist
Welcome to my profile. I am committed to providing therapy in a safe, confidential, supportive, non-judgmental and non-threatening environment.
My aim is to help you to make sense of your experiences, how you are in relationships and in the world. I work collaboratively with you, in the hope that we can resolve issues and co-create change.
I have 15 years experience working as a psychotherapist. Within the NHS I have a Psychotherapy role in a specialist service working with trauma. Alongside, I run a private practice offering Psychotherapy and Post-Cult Counselling (PCC). I am an ex-cult member myself, and have experience of working with ex-members from a variety of cultic groups/one-to-one relationships.
I offer an initial consultation without obligation or fee. If you would like some time to talk about your experience, how therapy could help, or ask any questions, please don't hesitate to get in touch.
For availability and to find out more, please contact
Available via Microsoft Teams, Zoom and telephone - across the UK and Internationally
sarahjlnicholson@gmail.com | Visit Sarah's Website
Kate Satrettin | Kent | United Kingdom
BSc Hons Psychology, MSc Applied Psychology, Registered MBACP (Psychodynamic Certificate & Diploma)
I am a psychodynamic counsellor who supports clients with a variety of struggles, including: anxiety, depression, low self-esteem, relationship difficulties, loss and bereavement, cultural and sexual identity.
I was born and raised as a Jehovah's Witness and after choosing to leave, I didn't appreciate what impact that experience had had on me. After suffering with my mental health, I decided to have therapy and it was life changing. I then decided to train as a counsellor myself. After qualifying as a psychodynamic counsellor, I went onto train as a post-cult counsellor with Dr Gillie Jenkinson. I now work with former survivors of cultic groups, highly controlled religions and abusive relationships who may have experienced religious trauma, undue influence and coercive control.
Prior to training as a counsellor, I worked for the NHS's National Institute for Health and Care Excellence (NICE) helping to produce a large range of mental health guidelines.
Current spaces: 1
Available via Zoom or Phone & In-Person (Sevenoaks, Kent)
Speciality: Former members of high control religions and cults (inc. ex-JWs)
Kate@Satrettin.co.uk | Visit Kate's Website
Alice Yendle-Parsons | Derby | United Kingdom
MA MBACP (Accred)
Alice is an experienced and qualified integrative psychotherapist/counsellor, clinical supervisor and lecturer with a Master's Degree in her field. She is also a registered accredited member of the British Association of Counselling and Psychotherapy (BACP).
She is qualified to work with clients of all ages in individual, couple and family therapy.
Alice works integratively; drawing on her training and qualifications in theories including Psychodynamic, Systemic, Person Centred, Solution Focussed Therapy, Cognitive Behavioural Therapy and Eye Movement Desensitisation and Reprocessing.
Alice specialises in relational issues, intimate partner relationships, relational trauma and recovery from high control relationships/groups/individuals and cults. She is currently working on a PhD with Edinburgh University linked to these areas.
Available via Zoom & In-Person (Derby, United Kingdom)
enquiries@empowertherapies.co.uk | Visit Alice's Website
Post-Cult Counselling in the USA
See below a selection of PCC trained individuals based in the USA. If you are interested in attending PCC please check out their bios and see who you would like to work with.
These are independent practitioners responsible for their own training and practice.
Jennifer French Tomasic | California | United States
MSc Psychology of Coercive Control
A survivor herself, Jennifer is a cult and religious recovery specialist. She offers both group and individual services both within the US and Internationally. Jennifer holds a Masters in the Psychology of Coercive Control. She is trauma-informed and a level 2 trained Internal Family Systems (IFS) practitioner. Jennifer hosts the Project Hope Podcast for families and friends with loved ones in a group of high control / high demand. She is a member of the International Cultic Studies Awareness (ICSA) Research Committee and has conducted research on those who self-identify as having experienced coercive control and received Internal Family Systems (IFS) therapy as a result. She is also a Research Associate at the University of Salford. Jennifer is an expert witness for cases involving coercive control.
Contact Jennifer: Jennifer@Jennifer-French.com
Visit Jennifer's website: Jennifer-French.com
Instagram: @jennifer.french.jfh.
Contact Jennifer | Visit Jennifer's Website
We encourage you to reach out to a therapist that feels like the right fit for you. If you don't feel like any of the therapists above suit your needs, there is still the option to be placed on Dr Gillie's waiting list. We are also able to provide you with a list of free resources that you may find helpful.